agmiu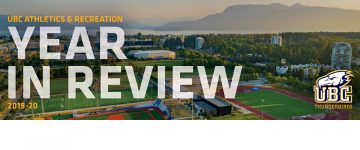 By agmiu on November 24, 2020
The Athletics & Recreation Year in Review document brings together a cross section of stories and statistics from the 2019-2020 school year that reflect the breadth of the Department's activities and impact on the UBC campus community.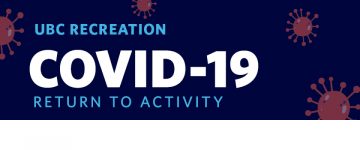 By agmiu on November 24, 2020
For updates on the status of sport facilities and programs related due to COVID-19, please check the return to activity information.

By agmiu on June 16, 2020
Beginning June 24, the UBC Baseball Rose Indoor Training centre will re-open with limited hours for private lessons.
By agmiu on October 11, 2019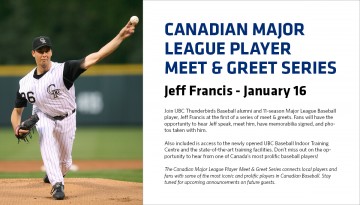 By agmiu on January 4, 2016
Join UBC Thunderbirds Baseball alumni and 11-season Major League Baseball player, Jeff Francis at the first of a series of meet & greets.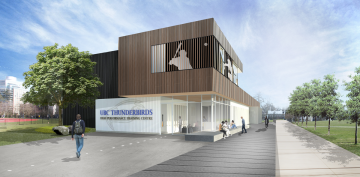 By agmiu on October 5, 2015
The Toronto Blue Jays are red hot right now and for UBC Thunderbirds Baseball, it couldn't come at a better time. With a newly opened indoor training centre, the Blue Jays craze couldn't come at a better time.
By agmiu on May 27, 2015
Construction of the new UBC Baseball Indoor Training Centre is now underway. Walls are now going up and Vancouver's newest baseball facility is set to open in September 2015.
By agmiu on May 14, 2015
UBC president Arvind Gupta announced today a cross-functional executive leadership team to enhance university-wide support for the UBC Thunderbirds. The team, led by VP Students Louise Cowin, will now also include VP Development and Alumni Engagement Barbara Miles and VP External Relations and Communications (currently under recruitment). "The Thunderbirds are integral to UBC's proud past […]
By agmiu on April 8, 2015
UBC's Vice President of Students Louise Cowin announced today that Athletics and Recreation Managing Director Ashley Howard will soon be leaving UBC.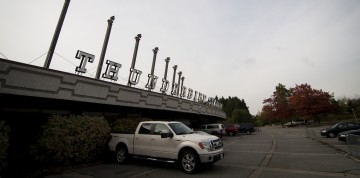 By agmiu on October 6, 2014
Please be advised that UBC Parking has started construction this week of a new surface lot at Thunderbird Stadium and is scheduled to be complete by the end of December 2014.